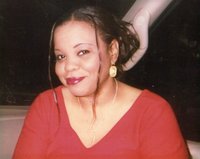 Marilyn Denise Baccus
Marilyn was born and raised in Dallas, Texas on January 12, 1958 to the parentage of the late Jasper Edward Baccus Jr and Mary Elizabeth Baccus. She departed this life on October 5, 2020. She was the beloved sibling of 17.
At an early age , she was baptized at Cedar Grove Christian Church, in Rockwall, Texas and later united with Lawrence and Marder Church of Christ , Dallas, Texas.
She attended Fannie C. Harris Elementary, Robert T. Hill Middle School and graduated from Bryan Adams High School. She attended nursing school, and was employed at Walter Reed Hospital in Washington, D.C. She was also employed at American Airlines.
She leaves to cherish her beautiful memory her two daughters Shauntee Loftis and Laquadrius Tabera (Benjamin) and one son, Roscoe Brand Jr., 5 grandchildren, Deja, Nyra, Jaden, Tionna, and Aniya. 16 siblings, Herman Baccus, Carolyn Baccus-Taylor, Kathryn Baccus-Scroggins (Ray), Don Baccus(Pat), Beverly Baccus-Scroggins(Harold), Debra Moore, Michael Baccus, Paul Baccus Sr., Glenn Baccus Sr., (Detrick), Gayla Baccus Daniels(Michael), Carlton Baccus Wesson(Laurie), Jasper Baccus III, Simona Beltran, LaToya Baccus and Brandon Baccus. Uncle, Dr. Carl Baccus of Los Angeles, Ca., Aunt Brooksie Baccus Rogers(Arthur) of Dallas, Texas and Aunt Bobbie Baccus Lanham of Los Angeles, Ca., A host of aunts , uncles , nieces, nephews, cousins and friends who have become family over the years.
Funeral Service Streaming: https://www.oneroomstreaming.com/view/authorise.php?k=160221213980426