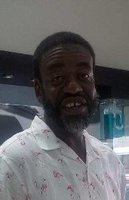 Jeffrey Alan Wiley
On June 3, 1972, Jeffrey Alan Wiley was born to Donald and Gloria Wiley in Dallas, Texas.
Jeffrey attended DISD schools and was a 1990 graduate of both Justin Kimball and Science and Engineering Magnet High Schools. After high school he attended Prairie View and East Texas State Universities.
He accepted Christ at an early age and attended Galilee Missionary Baptist Church in Dallas, Tx.
On September 2, 2000 Jeffrey married Chinquel L. Washington. Together they raised one son and two daughters.
At the time of his death Jeffrey was employed with GSF Fire and Safety. Jeffrey enjoyed traveling, cooking and spending quality time with his family. He was also a dedicated fan of the Dallas Cowboys.
He leaves to cherish his memories: his dedicated wife and best friend of twenty years Chinquel Wiley, Son Xavier, Daughters Delana and Mallory, Father Donald Wiley, Brother Brian ( Gina) Wiley, Sister Banner Wiley, three nephews, one niece, two great nieces and a host of family and friends.