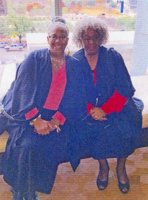 Cassandra Lerose Garrett
Funeral Service Streaming Link: https://www.oneroomstreaming.com/view/authorise.php?k=160879040991975
Cassandra Lerose Collier was born to Shirley and Leroy Collier on February 22, 1964. She
entered into rest on Thursday, December 17, 2020. Her parents preceded her in death.
Cassandra was educated in the Dallas Independent School system, and graduated from
Skyline High School in 1982.
At an early age, Cassandra grew to love gospel music, as her mother was a church musician
for several churches in the community. She sang in the Children and Youth choirs, and also
learned to play several musical instruments.
Later, she sang in the Adult choirs at St. Luke United Methodist Church and Beginners
Baptist Church. Occasionally, she accompanied her mother, playing the keyboard and
directing the choir.
Cassandra attended El Centro College where she received her Associates Degree. Shortly
thereafter, she married her high school sweetheart, Christopher Oliver.
Cassandra had two children, Micaela and Channing, from her union to Michael Garrett.
Cassandra was employed at the U.S. Treasury, Internal Revenue Service Division for 21 years,
and recently retired from the Dallas Independent School and Mesquite Independent School
districts.
God gifted her with a special voice to sing and a kind and humble heart to work with kids.
She leaves to cherish her memories her daughters, Micaela and Channing, her aunt,
Rhea Thompson, two uncles Alfred and Belford, Sr. (Betty), a host of cousins and other
relatives and friends.