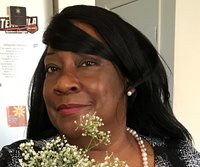 Jacquelyn Butler Redd
Jacquelyn Denise Butler- Redd was born on June 28th, 1957 in Dallas, Texas, to the late Samuel and Hazel Butler. She relocated to Los Angeles with her parents in her teenage years. She graduated from Washington Preparatory High School in Los Angeles, CA.
Jacquelyn accepted Christ at an early age. She was a member of Mount Moriah Baptist Church in Los Angeles, CA for several years and rededicated her life at First Baptist Church in Hawthorne, CA, where she served as a faithful servant. Recently, Jacquelyn decided to return to her hometown "Dallas" where she was excited to join and become a member of Salem Institutional Baptist Church (her family's home church).
Jacquelyn was a devoted and loving wife to her husband, Ulysses Redd for 32 years. They met in Los Angeles, CA and were inseparable ever since.
Jacquelyn took great pride and pleasure in raising her one and only daughter, Danielle Butler-Kelley. She couldn't help but to spoil her rotten. She enjoyed dressing her with all the bells and whistles throughout her childhood. She also advised Danielle of her fashion sense throughout her adulthood. Jacquelyn was very fashionable and had great taste. Aside from pouring her heart and soul into her daughter, she did just the same for her two grandsons, Xavier and Zion. There was no stone she wouldn't turn to make sure they had the very best of everything.
Before Jacquelyn retired, she worked as a Security Officer through various companies for over 20 years. She was very hardworking, a team leader and very influential to her co-workers and friends.
Preceding her in death: her parents, Hazel and Samuel Butler of Dallas, Texas.
Jacquelyn leaves to cherish her memories; her husband, Ulysses Redd (Dallas, TX); her daughter, Danielle Butler- Kelley (DeVal) of Los Angeles, CA, step-son Ulyssess Redd Jr. of Arkansas; two grandsons, Xavier and Zion Kelley of Los Angeles, CA; one sister, Shelia Ringwood; two aunts, Jean Wheeler-Crayton of Dallas, TX and Brenda Wheeler- Mitchell (Zenas) Dallas, TX and a host of nieces, nephews, cousins, family and friends.