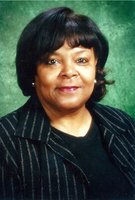 Greta Nell Williams-Hubbard
Greta Nell Williams Hubbard was born in
Dallas, TX on September 28, 1947 to the
late Curtis LeeWilliams and Estella Varita
Lanier Williams. Greta was the oldest of
three children; her brother Rawleigh James
Williams (whom preceded her in death)
and DanielWayneWilliams. She accepted
Christ at Munger Avenue Baptist Church
and later in life at Bethel AME Church.
Greta graduated from Booker T.
Washington High School in Dallas, Texas
in 1966. Where she was a cheerleader and
wonderful student.
After graduation, she worked at Texas
Instruments for a year before beginning a
25 year career at Southwestern Bell.
During this time, she married and started a
family. In 2004, she began a career with
Dallas Independent School District which
lasted until her retirement in 2013.
Greta is survived by her daughter and
son-in-love, Gaila Means McNett (Gerald);
son and daughter-in-love, Wilfred S.
Means III (Terri); brother and sister-inlove,
Daniel W. Williams (Germaine);
grandchildren: CameronMeans,Wilfred S.
Means IV, Courtney Means, Jordan
Phillips; great-grandchildren: Zachary
Means, Tahliyah Phillips, Tahmia Phillips
and Serenity Means; and a host of nieces,
nephews, cousins and friends.