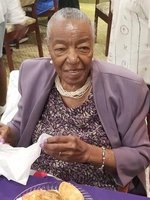 Edna L Fields
The Life -The Legacy - The Woman
Edna L. Fields was born to the parentage of Mike and Jessie (McQuire) Stephens in Okmulgee County Oklahoma. In the early morning hours of April 20, 2021 Edna was lifted by the angels and carried to her heavenly father to rest and be at peace.
Edna lived a full and successful live, everyone who knew her would tell you she was a child of the most high God and she was a kingdom builder. She gave her life to Christ at a young age, she recently told me she heard the sermon about the dry bones and that and that led her to Christ. She earned her Doctorate Degree in Philosophy and Dimity. She wrote books, preached and taught, filling her fruit basket even unto today.
She was mom to eight children that she birth but many more would come to love and respect her has there mom. She was a comfort to the lost, she was an ear for the unheard and she was a bread basket to the hungry.
Edna married Norris Fields in 1945 and they bared eight beautiful children Jarrell, Darrell, Duane, Stephen (Alice), Jonell (Edith), L. Denise Davis (Ronald), Cheryl and Robin (Shelia). She was the baby sister to five siblings, Juanita, Ruth, Anna, Albert, and Frank.
Edna leaves to celebrate her –her sons Jarrell, Stephen, Jonell, and Robin and daughter L. Denise Davis. A host of grand children, great grand children and great-great children, a sister Anna and a brother Albert, numerous nieces and nephews. Her Macedonia of San Antonio, TX, Greater New Zion of Dallas, TX, New Horizon of Hemet, CA and Son of Man of Balch Springs TX church families. Meeting her in heaven is Norris (husband), Jessie (mother ), Mike (father), Ruth (sister), Juanita (sister), Frank (brother), Darrell (son), Duane (son), Cheryl (daughter), Grand Son Duane Jr. Twigg and Joann (very special daughters - in - law).