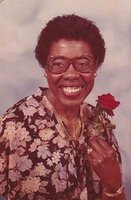 Mildred Gardner
Mildred Lois Gardner, 92, departed from earthly life on August 23, 2021.
She leaves behind her children, Alyce McGill (Memphis TN), Larry Stearne (Dallas TX), and Jacqueline McBride Lindsey (Mesquite TX); grandchild, Jalisa McGinnis (Dallas TX), nephew Victor Kenney (Ft Myers, FL) and an abundance of extended family and friends.
She was proceeded in death by her loving parents, Tommie and David Keys, her siblings, Beatrice Callwood, Mary Chapman, Tommie Keys Jr, and Jacqueline Vanhook. And her nephew, David Kenney.
Mildred was born and raised in Hearne, TX and was a graduate of Blackshear High school. She would go on to marry Charles Stearne and raise 3 children. She enjoyed socializing and, in addition to her children's activities, she was a member of the Lucky Charms Social Club as well as an active member of her church. After getting her children through school, she furthered her education at El Centro College where she completed an Associate of Applied Arts and Science degree. Mildred had a zest for learning and earned many certificates throughout her life. Mildred retired from the US Defense Contracts Management Agency after 20 years of service.
She was later united in marriage to Hosea Gardner Sr.
Throughout her life, Mildred was an avid traveler who enjoyed cross country road trips across America with friends. She was a faithful member of Bethel A.M.E Church and Hamilton Park United Methodist. Upon retiring, Mildred spent her time volunteering at the local library and working at North Dallas Day School. Mildred left a legacy of being a loving mother, dedicated grandmother, devoted Christian, and loyal friend.