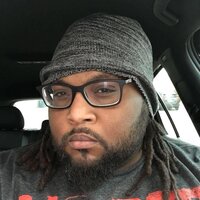 Kendrick Jamar Jackson
Kendrick Jamar Jackson, affectionately known as "KJ." Was born on July 16, 1978.
Kendrick was born in Stuttgart, Arkansas, to the union of Ricky and Sarah Jackson.

Kendrick spent his early childhood in Houston, Texas and later moved to Dallas, Texas, in 1985.
He received his education in the Dallas Public School system where he graduated from Skyline High School in 1996.
Kendrick married the love of his life, Lauren Matthews, on October 28, 2011.
To this union two children were born, Lyon N. Jackson and Keira J. Jackson.
They spent the past 11 years building a life and enjoying time with family and friends.

Kendrick loved his family, learning and trying new foods and cooking methods, and all things within geek culture while spending every moment with his girls.

On Monday, January 3, 2022, his life's journey ended, and he entered eternal rest. He was preceded in death by his grandparents, Minnie Hogan, Lester Hogan, Joyce Jackson, and Julius Jackson.
Kendrick's smile and sweet demeanor will be missed by all who knew him.
His precious memories will be remembered and cherished by: his loving wife, Lauren Jackson; two daughters, Lyon Jackson and Keira Jackson; his mother, Sarah Jackson; his father, Ricky Jackson; one sister, Keneisha Williams (Jerome); one niece, Jaiden Jackson, one nephew, Jace Williams; two sisters-in-law, Addy Matthews; Elizabeth Thompson (James); mother-in-law, Debra Matthews; father-in-law, Paul Matthews and a host of aunts , uncles, cousins and other relatives and friends.