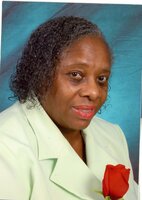 Pearline Hubbard Morgan
Pearline Hubbard Morgan was the 12th child born on August 17, 1941, to the parentage of Jim and Minnie Jernigan Hubbard, in Lone Oak, Texas
She attended Clark High School in Ladonia, Texas and graduated May 1958. She loved playing basketball for the girls' basketball team and served as captain for two years.
Upon graduation, Pearline moved to Dallas and married Rogers Morgan, Sr. To this union two children were born., Paula Ann and Rogers Jr.
She worked for Marriott Hotel until her health Failed. She was a member of Carver Heights Baptist Church where she attended Sunday School and Bible Study until her health failed.
She was preceded in death by her beautiful daughter, Paula McConnell, her parents, six brothers, one sister.
Those left to cherish her memories: Rogers Morgan, Jr., her son of Dallas, Texas. Avery McConnell Sr., son-in-law of Lancaster, Texas, 3 grandchildren, Ervin Booxer of Dallas, Texas, Eboni Davis of Houston, Texas and Avery McConnell ll of Lancaster, Texas, three sisters, Elnora Whitfield of Lancaster, Texas, Laura Carroll of Crowley, and Joyce (Russell) Givens of Cedar Hill, two brothers Harold (Marion) Hubbard of DeSoto and Tom Hubbard of Dallas, Texas and a host of nieces, nephews' other relatives and friends.