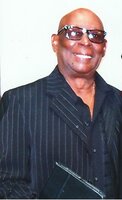 Billy Joe Dudley
Billy Joe Dudley, the only child born to Leverse Dudley and Willie Rettig, was born on May 2, 1934, in Overton, Texas (Rusk County). He attended London Colored School and graduated in 1950. He pursued higher education at Texas College in Tyler, Texas. In 1953, Billy moved to California to start a career in the United States Air Force. He bravely and honorably served his country for over twenty years before retiring in 1974.
Billy eventually returned to Texas and made his home in the Longview/Kilgore area where he resided for many years. He worshipped at Kilgore Baptist Church of Kilgore, Texas. He married Deborah Harper Dudley on November 25, 2000. He and Deborah relocated to Dallas, Texas in 2002, where he lived until his death.
Billy was the proud grandfather to two beautiful grandchildren. He enjoyed all sports, especially football. He was a staunch Dallas Cowboys fan. He enjoyed spending time on the lake fishing – when he was not losing his fishing poles. He was known for his stylish wardrobe and admiration of luxury vehicles.
Billy was somewhat of an introvert, but he was pleasant to be around. His sometimes unexplained laughter (particularly at himself) will be missed. Billy leaves to cherish his memory his wife: Deborah Harper Dudley, son: Brodric Dudley, daughter-in-law: Rachel Dudley, grandson: Jordan Dudley, granddaughter: Aubri Dudley, stepson: Kenrick Moore, and a host other relatives and friends.