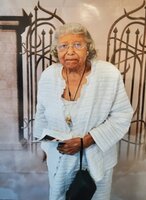 Minnie Maxine Toles
Life Reflections and Legacy
Minnie Maxine Fears Toles was born in Alexandria, Louisiana on April 16, 1929, to James Fears and Lubertha Smith Fears.
The family later moved to Dallas, TX where she attended Dallas Public Schools, graduating from Booker T. Washington High School. She attended Bishop College earning a bachelor's degree in education and moved to Wisconsin where she taught many years in the Milwaukee Public School system.
She married Rev. Marke Twain Toles and was married for 60 years until his death in 2011. To this union, one son was born, Marke Twain Toles, Jr. Both preceded her in death.
She was a mentor and friend to many faithfully serving at church, leading ministries, and serving on educational board systems in Milwaukee, Wisconsin and Bishop College in Dallas, Texas.
She was first lady of the Second Baptist Church in Kenosha, Wisconsin for 17 years (1963 to 1980). They moved back to Dallas, Texas where she was first lady of the Bethany Missionary Baptist Church from July 1981. She was a faithful member and continued to worship at the Bethany Missionary Baptist church until her death under the leadership of Pastor Albert K. Haynes, Sr.
She was preceded in eternal rest by her husband, Rev. Marke Twain Toles, son, Marke Twain Toles, Jr., brothers Henry Dillon Fears and Edward Walker.
She leaves behind to cherish her memories, nieces, and nephews: Wanda J. Easley, Nathan Fears, Michael Fears, Gregory T. Walker, Reginald Walker, Linda Walker, Donna Walker, Rita Roberts, Portia Walker, Patricia Walker, God Daughter Deri Adams Hooper and a host of other relatives and friends.