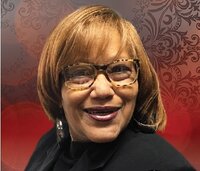 Nancy Marie Hall
I have fought a good fight, I have finished my course………
Nancy Marie Cooper Hall was born on June 13, 1957 to the parentage of the late Joseph Cooper and Lillian Montgomery Cooper in Dallas, Texas.
Nancy obtained her formative education in the Catholic Dioceses Schools of Dallas attending St.Peters Academy, Our Lady of Perpetual Health, St. James Elementary, Holy Cross Catholic School and Bishop Dunn High School. In her senior year she transferred to the Dallas Independent School District attending Skyline High School, graduating in the class of 1975. Nancy attended the University of Texas at El Paso before embarking upon her career at Southwestern Bell Telephone Company. She retired in 2016 after 35 years of diligent service. While at Southwestern Bell,
Nancy became a member of CWA Local 6215 serving in the elected offices of Chief Steward, Secretary and retiring as Executive Vice President in 2017. Nancy was very active with the Dallas Central Labor Council, The Texas State AFL-CIO, a past member of The Coalition of Labor Union Women, A. Philip Randolph Institute, Coalition of Black Trade Unionist.
She was passionate about 'Getting out the Vote' and exercising her right to vote. Nancy had a true allegiance to the Democratic Party and was a major participant in many campaigns of candidates over the years that stood for labor. Nancy was diligent in her work and always gave her absolute best as a Labor and Civic Leader. Nancy influenced and touched the lives and careers of many.
Nancy was united in Holy Matrimony to the love of her life, Carlton Jerome Hall. They met in the (6th) sixth grade embarking upon a courtship and love affair that spanned over 55 years. This union created had three beautiful children- James, Jennifer and Jasimin. 6 Grandchildren: Semaje, Jaylon, Jade, Jordan, Jazarah, and Demi. Their home was the center of family get togethers', holiday dinners and good times. Together Carlton and Nancy owned the legendary Hall's Chicken Shack on Buckner Blvd in Dallas, Texas.
Nancy possessed a strong belief in Prayer, the awesome power of God, Charitable works and goodwill towards mankind.
On the early morning of Monday, July 11, 2022, Nancy answered the eternal call from labor to reward. She leaves to honor her legacy: Her devoted husband, Carlton J. Hall; four children: Carlton Abron (Tiffney), James Hall, Jennifer Hall-Wright (Derrick) and Jasimin Hall; 2 sisters: Denise Clayton (Eric, Sr.), and Jaqueline Jones; 1 brother: Billy Joe Cooper; 2 Aunts: Madlyn Ellis (Clarence), and Margaret Fisher. 2 uncles: Phillip Bluitt (Anita), and Timothy Bluitt; 2 Cherished nieces, Venisa Jones and Erika Love; 6 Grandchildren; 1 sister- in-law: Collis Beachum; 2 brothers-in-law: John and Glynn Hall and host of nieces, nephews, other relatives and friends.