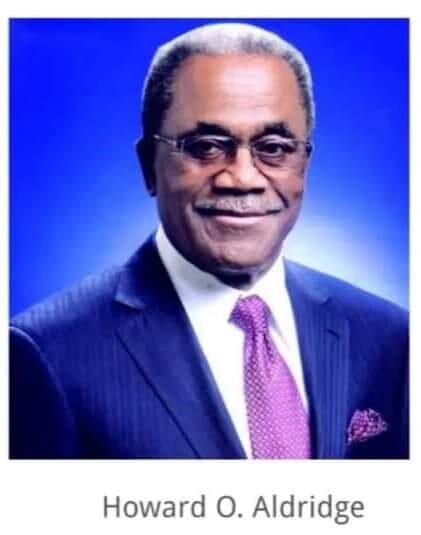 Obituary of Howard O'Neal Aldridge Sr.
Please share a memory of Howard to include in a keepsake book for family and friends.
Howard O'Neal Aldridge, Sr. – a loving son, brother, husband, father and friend – gently passed away on Monday, October 24, 2022.
Howard was born on September 30, 1942 in Bastrop, Texas to the proud parents of the late Willie Aldridge and the late Abbie Hodge Johnson. He was the youngest child, having two older sisters, Bobbie and Gracie. The family attended Greater Mt. Zion Church in Austin, TX, where Howard found and strengthen his Christian faith at an early age.
Upon graduation from L.C. Anderson High School, he matriculated to Texas Southern University in Houston, Texas via a baseball scholarship. As a student at the university, he played both baseball and football. Howard received his Bachelor of Science Degree in Pharmacy in May 1966. While at Texas South University, he met Joyce Marie Robinson and they courted two years prior to becoming husband and wife on December 26, 1965. From this marriage two children were born: Howard O'Neal Aldridge, Jr. and Tamela Marie Aldridge.
Howard and Joyce started their life together in Dallas, TX in 1966, where Howard worked as a pharmacist and store manager of Skillern's Drugs. For 15 years, he worked at various Skillern's locations throughout the Dallas metroplex. In 1980, Zales Corporation, which owned Skillern's, decided to transition to Revco Drugs. Howard received a profit-sharing payout due to this transition and use those monies to launch his independent pharmacy. Aldridge's Family Pharmacy opened August of 1981, with its formal grand opening celebration on October 18, 1981. Howard was one of a trio of black pharmacists to open their own pharmacies in that period: Bluitt Pharmacy (Wilbert Bluitt) and Cut Rate Pharmacy (Willard Stimpson). The pharmacy experienced immediate success due to the support from Black medical professionals and the community in the Oak Cliff. Aldridge's Family Pharmacy was approached by dermatologist Dr. Raymond Blackburn to produce "Blackburn's Mixture", which is now in pharmacies throughout the DFW area.
As an independently owned, neighborhood business, Aldridge's Family Pharmacy's high visibility has provided inspiration to young people to go to college or become entrepreneurs themselves. Howard encouraged them to set goals and develop a plan of action. Since opening the doors in 1981, Howard counseled and influenced several young people to go into the field of pharmacy. This included his son and partner, Howard O. Aldridge, Jr. In 1995, Aldridge's Family Pharmacy successfully expanded to two locations: the original Oak Cliff store and a Bishop Arts store location, managed by Howard O. Aldridge, Jr. For 17 years, Aldridge's Family Pharmacy served both the Oak Cliff and Bishop Arts communities. Due to gentrification of the Bishop Arts area in 2012, the second location was closed due to the demolishing of the medical center in which it was housed. Aldridge's Family Pharmacy in Oak Cliff is still going strong today.
In 1977, Howard and his family joined St. Luke "Community" United Methodist Church, which was under the leadership of Reverend Dr. Zan W. Holmes, Jr. Howard and Reverend Holmes knew each other from growing up in Austin, TX. During his time at St. Luke, Howard faithfully tithed and served on Lectionary Noonday Bible Study Group.
Howard also stayed active in various professional and personal endeavors. He served as Chairman of the Texas United Drug Group and was an active member of the TSU College of Pharmacy Alumni, the TSU Alumni Association-Dallas Chapter, which recognized him and Howard, Jr. as Businessmen of the Year in 2014, and the Texas Pharmaceutical Association. Howard was an avid golfer who routinely played Wednesday afternoons and Saturdays. You could find him at Cedar Crest Golf Course and Sleepy Hollow Country Club. He traveled with his golf clubs. Whenever he was, he always found a golf course. He was one of the Founding Members Pro-Duffers in Dallas, Texas and served as the Vice-President of First Tee of Dallas, a youth golf training group which was supported by the Tiger Woods Foundation.
He was preceded in his death by his mother and father, wife, Joyce Robinson Aldridge to whom he was married 47 years, and his sister, Gracie Guyton.
Howard is survived by his son, Howard O'Neal Aldridge, Jr. (Demetrica) of Desoto, Texas; his daughter, Tamela Marie Aldridge-Cousar (Timothy) of Washington, DC; his adopted son, Anthony Melton (Chauntaye) of Desoto, Texas; his grandchildren, Dr. Jasmin Aldridge Hamlett (Titus) of Charlotte, NC, Howard O'Neal Aldridge, III (Nakiya), Hampton O'Neal Aldridge and Thembi Tess Marie Cousar; his great-grandchildren Journee and Harvee Aldridge (Howard III). He is also survived by his eldest sister, Bobbie Arnold (Alvin) of Austin, TX, who served as a motherly figure in guiding him through troublesome times as a youth, guiding his education toward college, and supporting his professional aspirations of entrepreneurship. He also leaves his special friend, Sylvia Larkin and her family, who provided support and companionship to Howard over the last several years . Howard leaves a host of brother and sister in-laws, nieces, nephews, cousins, and friends to cherish his memory.
To send flowers to the family or plant a tree in memory of Howard Aldridge Sr., please visit Tribute Store


Share Your Memory of
Howard
Explore Our
​Site
Have A
Question?
We're here for you 24/7. Click here to contact us.