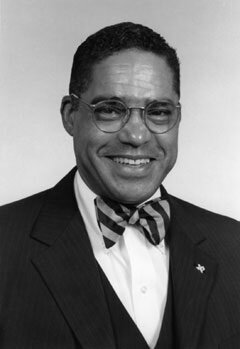 Obituary of Samuel William Hudson III
Please share a memory of Samuel to include in a keepsake book for family and friends.
It is with the utmost sorrow and deep sadness that we announce the passing of Texas State Representative Hon. Samuel W. Hudson III, JD. on Monday, March 7th at the age of 81. He was a Texas Hero and affectionately known as the "Son of South Dallas." Sam undauntedly and honorably served in the Texas House of Representatives for 12 two- year terms during the years 1973-1997 representing Districts 33-C and 100 spanning the diverse communities of North Dallas, South Dallas and Oak Cliff.
Sam was first an adored son, brother, husband, father, grandfather, uncle and cousin. He was born on November 6, 1940, in Houston, Texas to Samuel Hudson Jr. and Ella Lois Hudson and grew up in the neighborhoods of South Dallas and Oak Cliff attending James Madison High School. He met and married his beautiful wife Henry Hudson after meeting her at Texas Southern University. They have been married fifty-nine blissful years. Together, they have 8 children, Samuel IV (Stacey), Cynric, Lelalois (Adrien), Samzie (Demetrius), Stacie (Chris), Tracie (Barry), Samaria (Tory) and William (Barbara) and 14 grandchildren, Lora, Leslie, Lana, Riverlyn-Cynita, Arjuna, Aurelius, William, Elias, Chella, Torin, Tory, Titus, Bryonna and Christopher.
The hopes and dreams of being a political figure started for Sam after he graduated from Texas Southern University and then attended Thurgood Marshall School of Law. His focus was criminal law and he always felt very strongly that as a lawyer he would seek to bring justice to the innocent and defend the civil rights of all people. After passing the bar on his first attempt, Sam became the first lawyer in his family which also inspired nine other family members to go to law school and pursue careers in law.
In 1973, at the young age of 33, Sam's dreams of becoming a politician came to fruition. He was elected to his first term representing District 33-C previously held by the Reverend Zan Holmes. In this district, Sam would build long-lasting relationships in the communities and advocate on many levels to better the lives of his supporters. Sam's campaign slogan "Of The People, For The People" illustrated his passion for defending the principles he held in the highest regard while being a public servant to his constituency. During this term, he became a founding member of the Texas Legislative Black Caucus. Building upon his exemplary service to the people of Dallas, he was decisively elected in 1983 as state representative of District 100.
As a state representative, Sam authored several historic bills that positively impacted the people that he served. Answering the call from working mothers to have equitable childcare options, Sam passed House Bill 1308 giving qualifying women access to federally funded daycare programs that would fully or partially cover day care fees for their children. In the vein of social justice, he passed a bill that eliminated offensive and derogatory names given to geographical/historical landmarks that were racist toward African-Americans. House Bill 1756 made it possible for names like "Negrohead" to be renamed Bill Pickett Hill. Sam felt strongly this was one of many ways to dismantle racism.
Sam would further his quest for social activism by commencing a 68-day food and liquid fast to get bills heard in the House chamber. His personal demonstration of sacrifice and protest against partisan politics would become a movement spreading like wildfire. Eventually, the Speaker of the House yielded the floor to Sam one fateful morning enabling him to pass more bills into law in a single day making state legislature history.
Sam was a loving husband, father and man of faith. Most of all, he loved spending time with his wife Henry and their children. He always shared fond memories of traveling the world with Henry and together sharing several life-changing experiences. As a father, Sam was the biggest supporter of his children as they competed in academic decathlons, sports, and performed in dance recitals and plays. If you ever spent time with him, you never left the conversation without him telling you stories of family road trips to Turner Falls and Dinosaur Valley. Life experiences and milestones with his family were very important and cherished by Sam. He was an eternal optimist never succumbing to life's challenges and encouraged everyone to embrace his mantra, "Faith always trumps fate."
Sam will be deeply missed, but he will always be in our hearts, minds, and spirits. Funeral arrangements are being handled by Black & Clark Funeral Home with a public viewing on March 22, 2022, from 1pm to 6:45pm and visitation from 7pm to 8pm. The funeral memorial service will take place at Inspiring Body of Christ in Dallas, Texas on March 23, 2022, at 11am. Following the funeral services, Sam will be honored with an official state interment for government officials in Austin at the Capitol's Texas State Cemetery. A Celebration of Life will take place on the Texas State Capitol Lawn on March 24, 2022 at 2pm. Interment services are scheduled for March 25, 2022 at 11am at the Texas State Cemetery with a Remembrance Luncheon to immediately follow onsite in the Gallery Room.
Sam is survived by his wife, children, grandchildren, and sisters Estrellita Redus and Camellia Franklin. He is preceded in death by his parents and siblings Mary Lois Sweatt and Clifford Hudson.
Funeral Service Streaming: IBOCchurch.org
To send flowers to the family or plant a tree in memory of Samuel Hudson III, please visit Tribute Store


Share Your Memory of
Samuel
Explore Our
​Site
Have A
Question?
We're here for you 24/7. Click here to contact us.